Megjelent a JetBrains Space On-Premise 2023.2
Megjelent a Space On-Premises 2023.2 – egy könnyebben elérhető verzió, amely új, egyszerűsített telepítési lehetőségeket és más hasznos funkciókat tartalmaz.
Az új AWS one-click telepítési lehetőséggel mostantól gyorsan és egyszerűen futtathatja a Space-t az AWS felhőben. A Docker Compose-t stabil telepítésként is használhatja a Docker Compose kibővített konfigurációs lépéseivel, amelyeket ebben a verzióban adtunk hozzá.
A termelékenység javítása érdekében a Space On-Premises 2023.2 számos új funkcióval bővül, például a hatékony IDE-ihlette navigációval, a problémák időkövetésével, a build artifactok tárolásának és a projektfüggőségek gyorsítótárba helyezésének lehetőségével, a Rust csomagok támogatásával, a problémák gyors létrehozásának lehetőségével közvetlenül kódrészletekből és még sok mással.
Space On-Premises telepítési lehetőségek
A v2023.2 kiadásával a Space On-Premises telepítésének három különböző módja közül választhat. Telepítheti a Space-t az AWS felhőre, helyi környezetbe a Docker Compose segítségével vagy egy Kubernetes fürtbe.
AWS egy kattintással történő telepítés
Az AWS one-click telepítése a legegyszerűbb módja a Space On-Premises telepítésének. Az AWS csomag egy AWS natív és teljes körű AWS telepítést jelent, amelyet az AWS felhőben hosztolnak.
Ezzel a telepítéssel egy stabil megoldást kap, amely mérsékelten fogyasztja az AWS erőforrásait, és biztonságos adattárolást biztosít az AWS RDS és S3 segítségével. Az AWS-opció tökéletes azoknak a szervezeteknek, amelyek már használják az AWS-t, vagy még nem rendelkeznek dedikált infrastruktúrával.
Docker Compose telepítése
A Space On-Premises példányát Docker Compose segítségével konfigurált Docker-konténerekben is futtathatja. Ez a telepítési módszer gyors és egyszerű, lehetővé téve a Space On-Premises gyors telepítését és frissítését.
A Docker Compose opció egyszerű és stabil Docker natív telepítést biztosít, amely bárhol hosztolható, így rugalmasan igazítható a szervezet infrastruktúrájához.
Kubernetes telepítés
A Kubernetes natív csomag bármilyen klaszterbe telepíthető, akár a saját környezetében, akár az Amazon Elastic Kubernetes Service, a Google Kubernetes Engine, az Azure Kubernetes Service vagy bármely más, Kubernetes-t támogató felhőszolgáltatásban fut.
JetBrains Space On-Premise 2023.2 újdonságok
Erőteljes IDE-szerű navigáció
Az ismerős és hatékony IDE-ihlette navigáció mostantól a Space-ben is elérhető. Egyszerűen nyomja meg a Cmd+K billentyűkombinációt a Space-ben való navigáláshoz. Akárcsak a JetBrains IDE-ékben, az új navigáció különösen hasznos, ha ismeri a keresett elem nevét (vagy legalábbis egy részét). Mostantól minden adatod egy helyen van, néhány billentyűleütéssel könnyedén navigálhatsz a csevegőüzenetek, problémák és kódértékelések között.
Store Build artifact-ok és cache project függőségek tárolása a fájltárakban
A fájladattárak mostantól használhatók bármely build artifact (teszteredmények, kódminőségi jelentések vagy binárisok) tárolására, illetve a projektfüggőségek helyi gyorsítótáraként. Ezáltal tovább egyszerűsítheti a CI-feladatokat, erőforrásokat takaríthat meg és javíthatja a build időt.
Merge-request-ek előre kitöltése commitokból
A merge request-ek és a kódértékelések mostantól rendelkeznek egy külön leíró mezővel, amely tartalmazza az összes releváns részletet. Az új merge request részleteit előre kitöltheti az ág commitjaiból származó üzenetekkel is, ha a leírás mező alatt a Copy text from commit messages gombra kattint.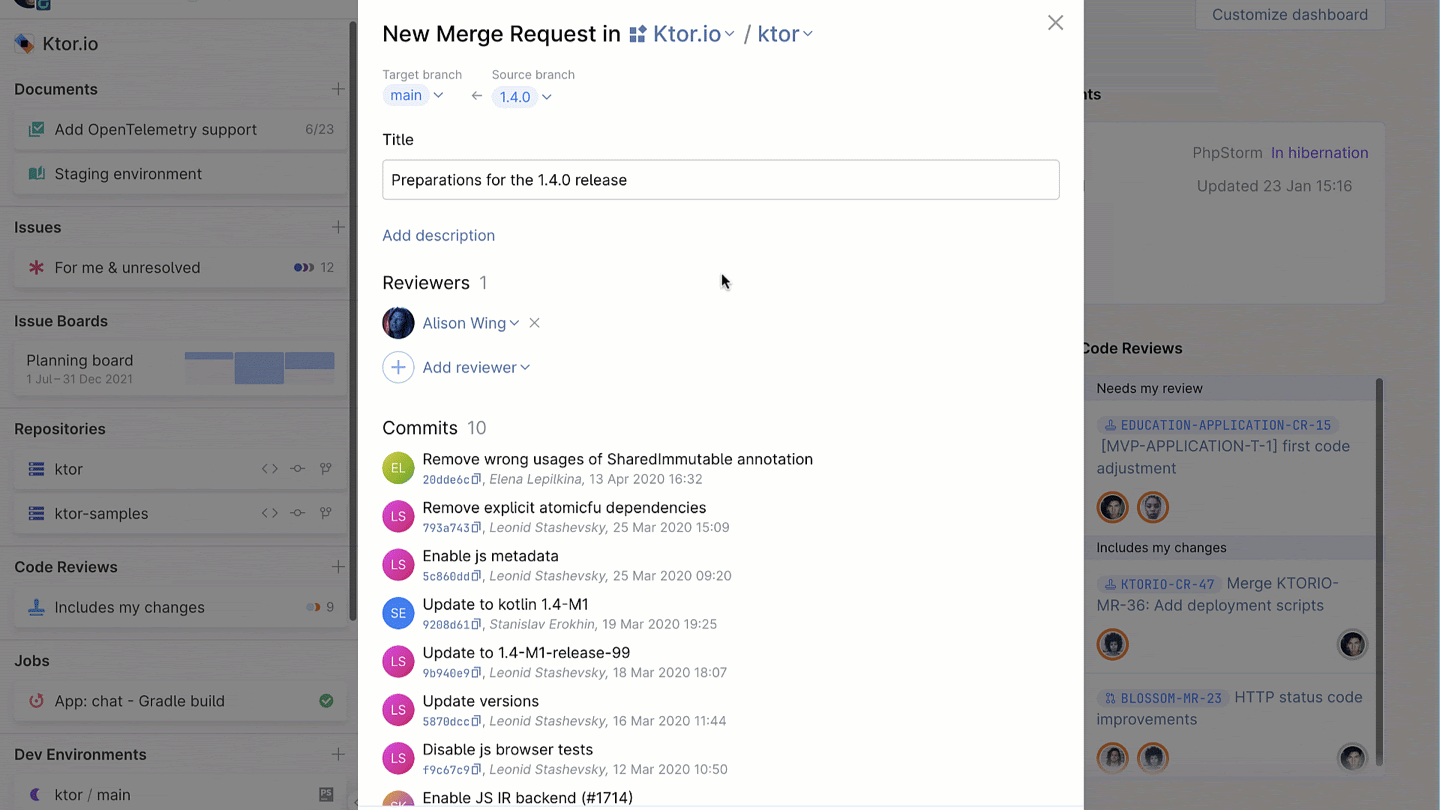 Issue-k létrehozása kódrészletekből
Mostantól kiemelhet egy kódrészletet, és létrehozhat belőle egy issue-t, vagy közvetlenül elküldheti egy csevegőbe vagy csatornára. A kiemelt terület kódrészletként jelenik meg a megfelelő fájlra vagy a tárolóban lévő commitra mutató hivatkozással, így mások gyorsan megtekinthetik és elérhetik azt.
Az feladatokra fordított idő nyomonkövetése
Amellett, hogy visszamenőlegesen is naplózhatja a Space issue-kra töltött időt, mostantól dinamikusan is nyomon követheti azt, hogy jobban be tudja osztani a munkaidejét. Az eltöltött idő az aktuális dátummal kerül naplózásra, és bármikor folytathatja egy meglévő időmérő folytatását vagy szerkesztheti a bejegyzést, hogy pontosan nyomon követhesse a sprintjeit.
Projekteken átívelő hozzáférés az issue-khoz
A Space megkönnyíti a különböző projekteken való egyidejű munkát, mivel mostantól egyetlen helyen kezelheti az összes, a szervezeten belül elérhető issue-t. Emellett mostantól könnyebben kereshet az issue-k között a fejlett szűrők használatával.
Container image-ek közzététele a Docker Hub-ba
Mostantól a Docker- és OCI-image-eket, valamint a Helm-diagramokat is közzéteheti a Space Packages-ről a Docker Hubon.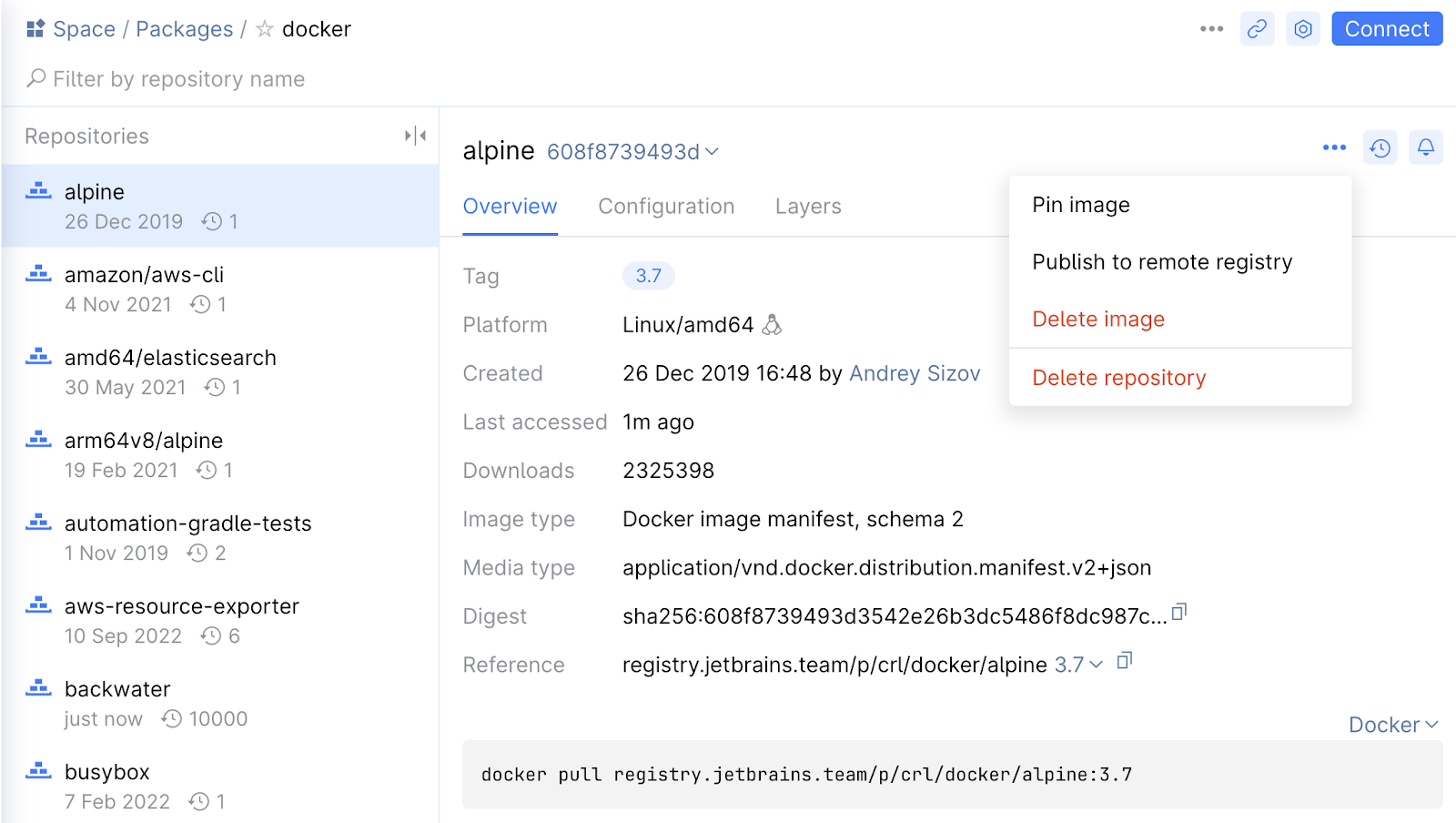 JetBrains szoftver vásárlás
Tisztelt Érdeklődő!
Ha felkeltette érdeklődősét valamelyik JetBrains termék akkor ahelyett, hogy a gyártótól venné meg teljes áron, forduljon bizalommal a Ker-Soft-hoz, a JetBrains magyarországi partneréhez és szerezze be nálunk JetBrains szoftverét kedvezményesebb áron. További információért, árakért forduljon kereskedőinkhez a sales@kersoft.hu címen, vagy a +36 (1) 206 2147 telefonszámon.
Irány a webshop